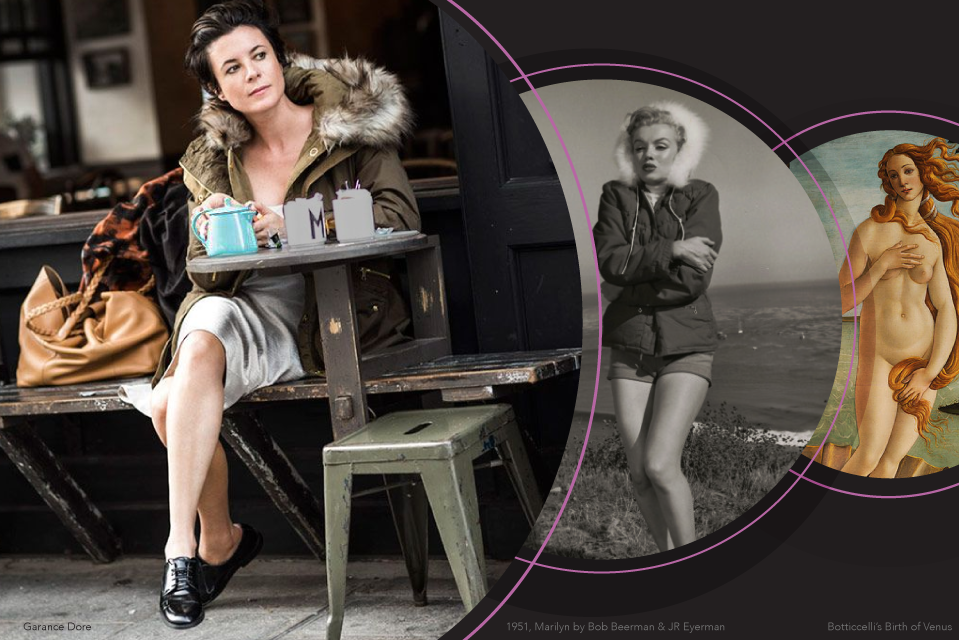 Nudity served in the most subtle, sophisticated ways inevitably makes us tick. And buy military-green parkas. But then comes polar vortex.
Piecing together a warm and aesthetically admirable winter outfit elicits the delicate line
between wardrobe wipeout (a full-length puffer and sweats) and unseemly neglect (a
single tee in 20 degrees). For the frigid non-Californian, the long winter chill is marked
by the weight of wool socks, which often dictates a look somewhere between the
Michelin Man and Charlie and the Chocolate Factory's Veruca—the girl who nearly
popped from too much berry.
Enter the "utilitarian chic" green parka, a coat that is often purchased and stashed away
when one realizes the challenge of pulling off the elegant look Gisele achieves strolling
in Boston. For her, the cold is a styling boon. Like Marilyn Monroe, Garance, and
Michelle Williams, Gisele's parka is a breathtaking allusion to bare ankles and a heated
car where one might luxuriate in Tory Burch flats, removed from the travails of everyday
winter life.
Yet for the practically chic among us (and those who have already spent their winter
wardrobe budgets and must put their coats to use), there are style options that highlight
the possibilities of a functionally worn dark green winter parka. This is style for the
grown-ups: a woman who enjoys her ability to navigate the polar vortex and the New
York City subway. Like a strong wine with dinner, the question morphs: "How to pair the
green parka to good effect?"
When inclined to reach for black jeans, instead choose soft wool blends and opaque
tights.
In early December of 2015 Scot Schuman of the Sartorialist  noted in his Instagram
how this  8 year old  2007 parka look was  still appealing to him.  Well, the silhouette  is a
modern take on the Balenciaga sack silhouette of the  late 50s, combining best of
both worlds: feminine and comfy.   Something to keep in mind while paving
your style path through the world of baggy  clothing.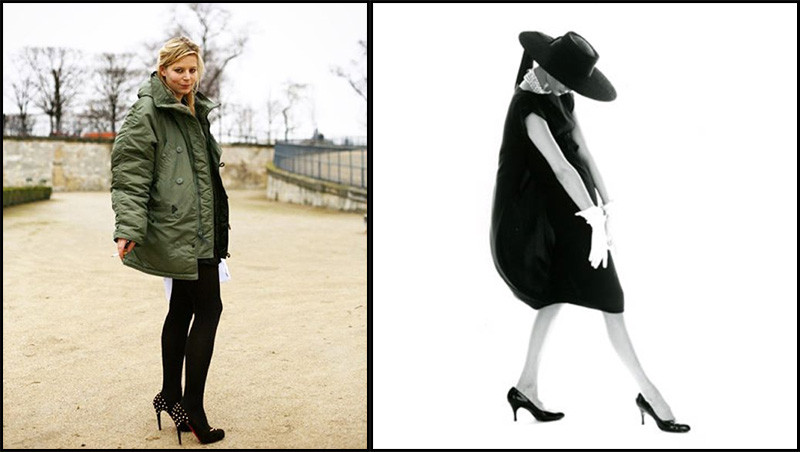 Parka and heels connected by long black tights still looks very good to me, Paris, 2007.
The strong-leg line created accentuates femininity while enveloping the legs in
warm wool, and often proves warmer than denim. When wearing the parka fully zipped,
a skirt-tight combo also provides the chance to throw on a pair of sturdy black leather
boots without looking overly clunky. Similarly, should you choose to walk about with
your parka open, soften the look with black cashmere scarves or turtlenecks.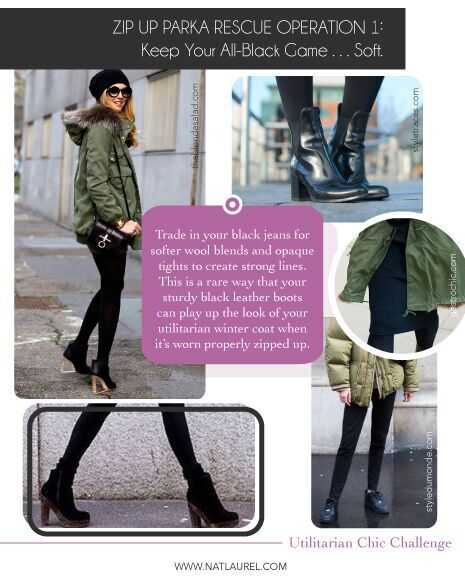 If it's casual Friday or a Saturday out, and denim presents itself as the only viable (and
comfortable) choice, rotate in the oft-neglected bright blue jean. In contrast to the darker
shade of the parka, a brighter pair of denim makes the look pop alongside a bit of fur trim
around the hood (à la Marilyn), and invites the opportunity to wear a corresponding pair
of that most coveted of favorite winter shoes: the suede bootie. Like the fur-trimmed
hood, the shoe contrasts with the utilitarian look and suggests the softness of the ankle
underneath.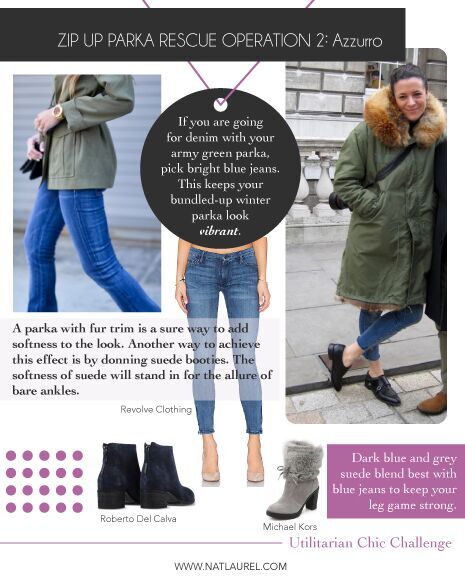 Alongside light blue jeans, a generous, thicker heel bootie ensures you'll be able to
navigate the pavement, while a dark ruby, olive, teal or taupe shoe offers winter's best
prize: anything that is reminiscent of a thick winter throw blanket. Or, go in the other
direction for a pair of  knee-high Stuart Weitzman 5050s.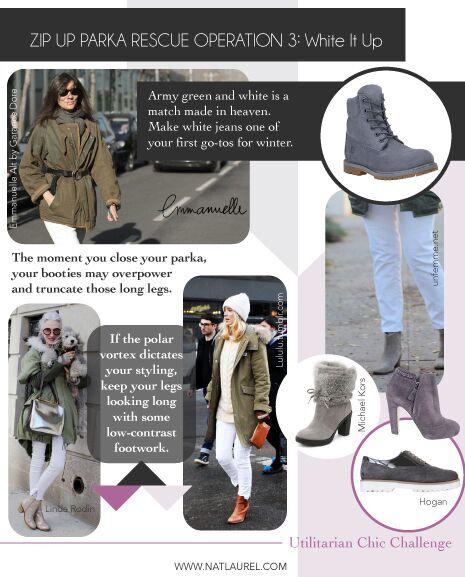 Lest you feel tied to the realm of dark hues, take full advantage of the possible contrast
and go for white early and often. A green parka alongside a pair of white white pants
redeems drab days, and matches the snow in its bright appearance upon first falling. For
this look, choose low-contrast booties that offer some winter texture in high-shine or
glossed leather to avoid truncating the leg. Try light booties or a pair of soft Timberlands
in grey (steer clear of the classic yellow, which paint an overly-utilitarian picture).
Each winter, catalogs are filled with models sporting the parka in its most natural and
ethereal state: unzipped and, frankly, chilly. Achieve that same promise by wearing the
parka in all its army-fatigue-allusion glory. These options marry the form-function
divide. Wear your green parka and love it for all the warmth—and style—it shows winter
can provoke.
Popular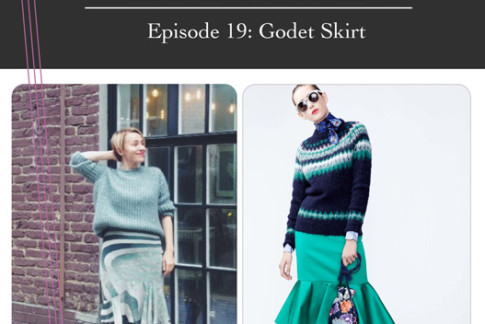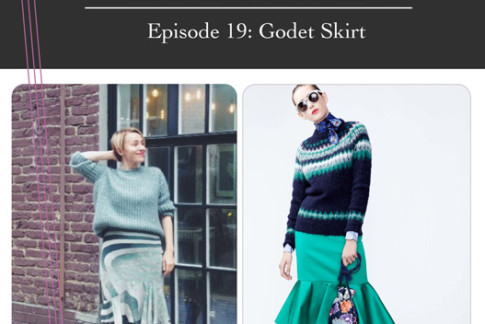 Related posts