Jeans, Flats & Victorian Porn
A cheat-sheet for your casual looks that will help you avoid the 'Victorian Undressed' state and stroll around with grace.
Judging by the comments on Facebook and Instagram, questions about pointy flats and how to employ them are still bountiful. Here is a quick hands-on follow-up to my  pointy toes novella.
The approach depends on what beauty type you are in my little methodology.
If you are a Siren and you already own a sassy-classy Joan Holloway-inspired wardrobe or you have an ambition to build one, then you do need your pointy flats. If you don't have such a wardrobe and building one is not on your immediate to do list, then exhale. You do not need those pointy flats!
However, if you do have or plan on such a wardrobe, you will basically be using your pointy toe flats to tone down your inherently glamorous, lady-like, sultry looks in order to make them more natural in our predominantly casual environment. Only by creating such harmony with the surrounding can we develop our personal style, and not a flashy costume. As a rule, a Siren beauty will not wear pointy flats when she attends a function, is engaged in public speaking/high profile business meeting, or heads to a romantic date. Formal events and boudoir settings are her natural habitat, where she can be completely herself, meaning that she is wearing heels. Pointy flats are to appease a Siren's inherently elegant looks in more casual, down-to-earth situations. 
The Amazon beauty will use pointy flats for completely different purposes. She will rely on them in order to dress up her inherently casual jeans and easy knits wardrobe and to add a touch of sensuality to her tomboy looks. Unlike Sirens, an Amazon should head out in pointy flats for a date, a business meeting or, in selected cases, even a function. If you are an Amazon and you don't attend functions, business meetings, or date and you haven't gotten in touch with your sensual side just yet, then you don't need those pointy flats. But I really hope you have or you will.
One place where Amazons and Sirens meet is cropped skinny jeans. I assume this is where I can get the Sirens' attention, as scores of Sirens rely on jeans and casual clothes.   With Amazons, it's easy:  they just add pointy flats to their jeans and they feel moderately dressed up. Sirens who perform a similar exercise will end up with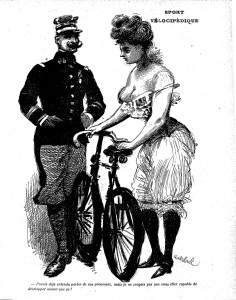 drastically different results! They will look completely undressed. Here is why: jeans accentuate our thighs and Sirens are notorious for those. Pointy flats will take it one step further, ending up in a very peculiar image, somewhat resemblant of a Victorian Porn postcard….
On one hand,  this  'Victorian undressed' has long become a pedestrian look,  causes no ones eyebrows raised, tickles no ones fancy.  But  I am personally suffering immensely seeing women compromising their beauty everyday.
Here is the case of the aforementioned 'Joan.'  While this is a  perfectly socially acceptable  casual look these days, I can't help morning this type of beauty being  so betrayed  by her clothes.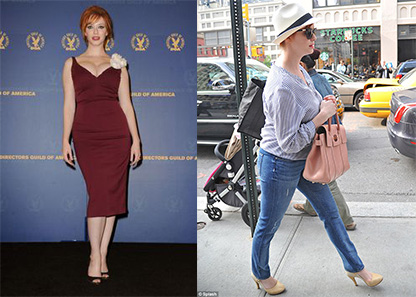 In case you feel it got under your skin too, read on.   Dressing down does not  need to go hand in hand with compromising Siren's  beauty.  The problem I see here  is that fashion scene has been dominated and defined  by an Amazon built woman, who looks swell  when dressed down, which is how our eye has developed an incredible tolerance for the mediocre results  Sirens get when  dressed in the current gender-bending styles.  This approach also propels body shame and weight-related issues while  a  typical Siren could be a US size 2  and still get  the same "Victorian Undressed" look, when wearing her (skinny) jeans with flats or classic pumps.    What Siren needs is a completely different approach to her Jeans + Flats combination.
Here is a strategy for your skinny jeans + flats look.  In order to combine the two you need to perform an exercise somewhat similar to the one described in my article about pencil skirts, "To Knee or Not To Knee," namely, to build up the torso which will visually minimize those childbearing hips and thighs. Here are a couple of tips:
*Go with a chunky sweater with draping that does not hang, but floats, pulling the eye upward. In this picture I am wearing soft ballerinas with rounded toes, because they are more comfortable for air travel. In this combo, they work just as well as pointy toes.
*For sleeveless models, just find something cut to cover the shoulder, but not in a feminine, coquettish way, or you'll get that Victorian erotic postcard look again! A similar effect can be achieved with a scarf you arrange around your neck like a travel pillow.
*I like to engage the fedora, because it enhances the androgyny component which is so helpful in visually minimizing the childbearing hips.    In this picture, the scarf does nothing for the look; the fedora does the entire job. Christina's had does not dominate the look and the loose blouse is to saggy.
*Always, always, always opt for low-waisted cropped skinnies; otherwise you'll get that Victorian bloomers undergarment look yet again.
*Cropped skinnies will get your better proportions than full-length ones
*Often times I notice that in this particular look the belt goes a long way and helps to complete this essentially disassembled combination.
These tips will elevate a Siren's casual looks and allow for pointy flats.   The point is that with a built-up torso will open the doors for more comfortable, soft, rounded toe ballerinas and suffer much less.
This look basically means Siren  is playing an Amazon.  She plays down all her best features in order to simulate Anazon's best.   I enjoy this game once in a while too.  But  this is what everyone is wearing these days and I have a built-in clock for 'wearing' against the stream.  But then again I indulge in my sociopathic tendencies, built my life around it  and sporting a strong Siren look is part of my sociopathic stance.  Having said that, I know that not all of you are sociopaths or  necessarily enjoy that.  Many Sirens are in deep need for  tips how to simulate a decent Amazon.  And I am always glad to share what I know  with you.
Popular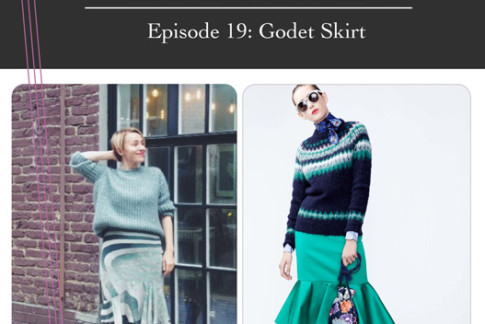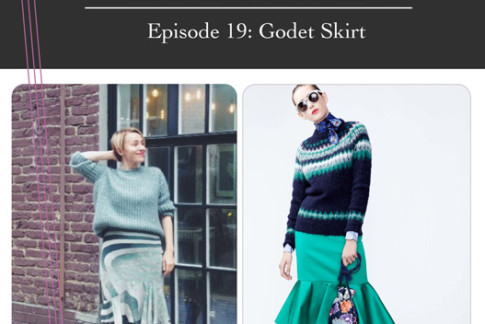 Related posts