The Complexion Friendly Camel Coat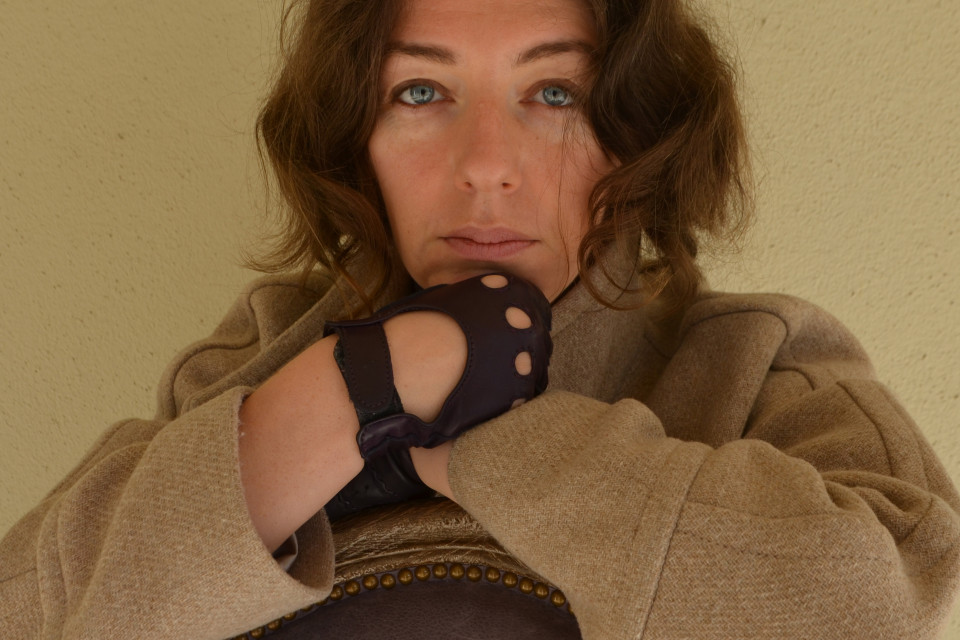 Does the fashion intelligentsia's emphatic embrace of the camel coat every fall leave you head-scratching? Let me guide you through the world of beige.
Cold days are here and warm hues are in, everything cries for warm colors, your visual receptors included. This is exactly why a soft beige camel coat will keep its  'staple' status.  Pick up Nina Garcia's "The One Hundred: A Guide to the Pieces Every Stylish Woman Must Own" and the camel coat is there. Scan through the top-tier style blogs; the bottom line is that a camel coat is an absolute investment piece.
It's perplexing for many women that what's considered classic in fact leaves them looking jaundiced. If it's perplexing for you, it means you have strong pink undertones in your skin.  Welcome to the club.   I too kept trying on numerous  beige coats as well as throwing my husband's camel blazers nonchalantly over my shoulders and, inevitably I stepped away from the mirror feeling defeated and wronged. What lights up his hazelnut skin tone turns me into an Edvard Munch's  "Scream."  My skin is neither olive nor peachy nor alabaster, it is some undefined color that combines pink and beige, a sprinkle of bleak freckles and occasional redness. Overall, it looks more on the warm side, but when you deal with complexion, there is more than meets the eye.
You need to meet your undertone, which is notorious for its reclusiveness.  Undertones keep anonymity for the majority of their owners, stylists, and makeup artists. They tend to act  like that neighbor you only get to see from the back on rare occasions you two happen to return home at the same time. He avoids eye contact and seems to purposefully rule out any possibility of a friendly chitchat.  One needs to come up with a plot to meet your secretive neighbor aka your skin undertone.  I did. It is pink.  Pink undertone isn't a caucasian prerogative. It can be found  in black and Asian skin tones alike. It's a certain quality of the skin that sabotages your relationship with yellow-based colors.   And it's the reason why you can't sport those warm, cozy camels and beiges and why you are left at the outskirts of the allegedly timeless style. Perhaps a  thorough foundation and some sculpting techniques  could help, but the whole point of a camel coat is its casual appeal.  A great camel coat is  something you should be able to just throw on top of anything and feel great without being subjected to a world-class makeup.
That is exactly the task all beige coats failed to perform for me until last year when I  once again revisited the beige,   this time at J.Crew. And much to my surprise their  stadium cloth cocoon coat in "sandstone" suddenly worked.    I finally saw  that timeless appeal along with high ROI and makeup-free potential. Another thing about this coat is its crêpe-like fabric with rich, irregular  weave. It goes a long way for complex skin tones that combine multiple colors as opposed to even olive and alabaster complexions,  which are less demanding of fabric textures.  This sort of texture elevates our wake-up-like-this looks.   Here I am  nearly makeup-free, save for my Benefit eyebrow wax that I also lightly applied as an eye pencil.
Being the hue junkie that I am, I whipped out  all my camel-like fabric color swatches out and put them against the coat.  They range from rich,  sumptuous classical ochres to more grayed, watered-down beiges.  The first ones (on the left)  have labels like   "burnt sugar," "toasted almond," "Brazilian nut" and "pumpkin spice"  attached to them.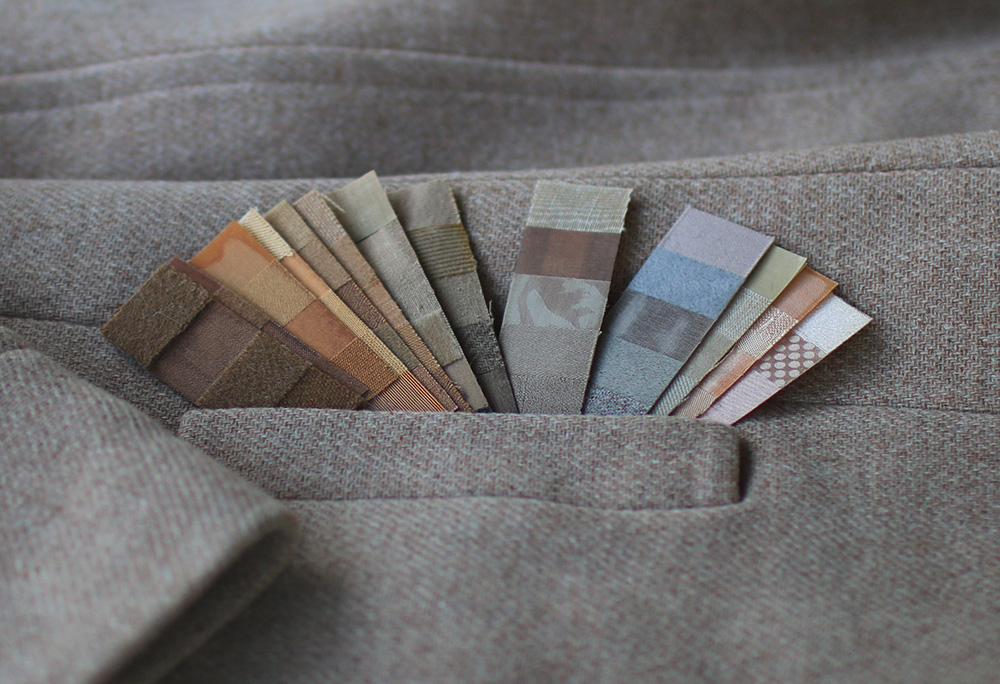 Along with their earthy names, the colors remind  the hues of the   Chauvet-Pont-d'Arc cave paintings. No wonder pink undertone rebels against the Paleolithic Chauvet  ochre shades.  Come to think of it, pink-undertone humans mustn't have had much chance in caves.  Were they even around at the time? Imagination offers pink-undertone species evolving upon the glass being adopted for domestic use, prompting people to spend more time indoors. If my frivolous speculation is at all correct, then you would think it's over. Pink ochre is an oxymoron. But, the XXI century is all about juxtaposition and the world of color is miraculously complex, so everything is possible.  As the  swatches in my collection travel from heavily yellow-based to green, then grey-based and all the way to translucent pastels,  we get to  hues more  inhibited in both saturation and name. This is where  among  "mushroom mist" and "twilight taupe," I meet the swatch that matches with the J.Crew's "sand stone."   It  is called "pink smoke" and "fawn."  Sure enough it has pink smartly blended in.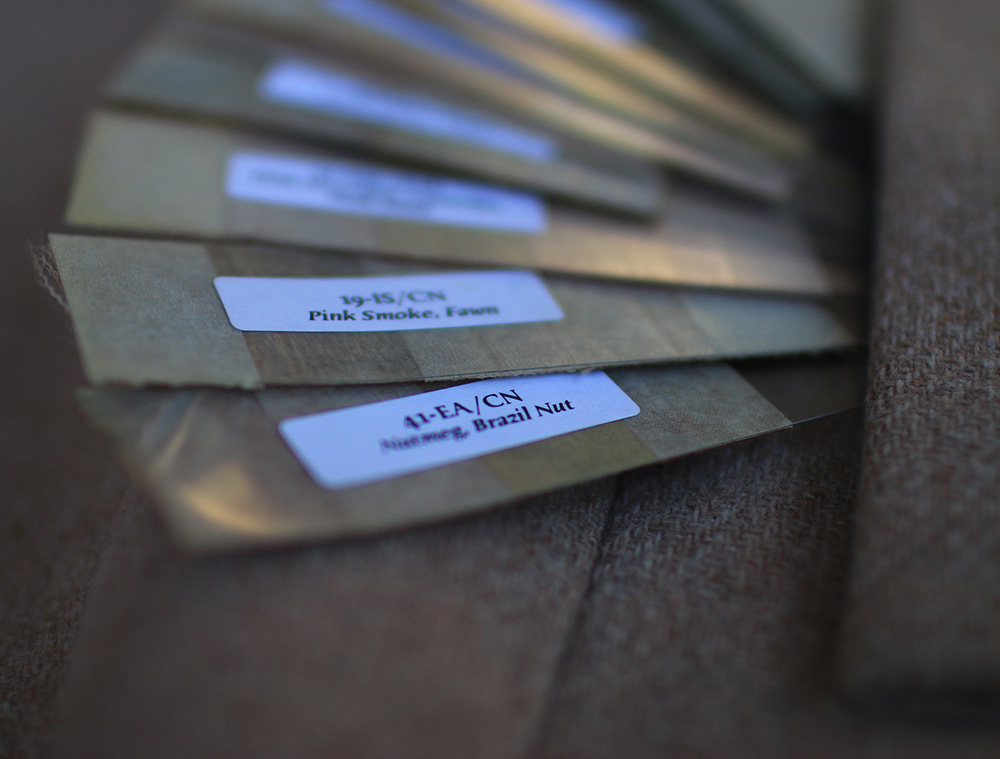 One thing the concept of 'Seasonal Harmony' taught me is to be attuned to color names. It's been decades since the concept fell out of favor, but I feel that in the age of Internet shopping color descriptions are carrying new responsibilities. What does a name like "light brown" or "tan" give a shopper struggling with a decision over a garment online? Now compare that to "candied ginger" and "brandied melon" teeming with spicy, ornate sensations delivered to you through that meddling screen. However wonderfully idiosyncratic and savory, they failed my pink undertone over and over, so I'd pass on them, saving everyone the returned merchandise costs, and move on, hoping for a more promising name. The truth is that while "pink smoke" is relatively straightforward, "fawn" is a bit more open to interpretation. But with all subjectivity, eloquent color names carry an enormous potential to convey valuable information to shoppers. J.Crew chose "sandstone" for their stadium coat. It's not as breezy as "pink smoke," but at least it hints of a more neutral shade, parted from the raw energy of "Brazilian nut."   "Sandstone"  had equal chance of being refined or stark (which it might well be for someone with hazelnut skin tone). I gave it a try and was rewarded. This coat turned out to be both, tastefully understated and pink-undertone-friendly, finally giving me my beige-coat-sans-makeup-moment.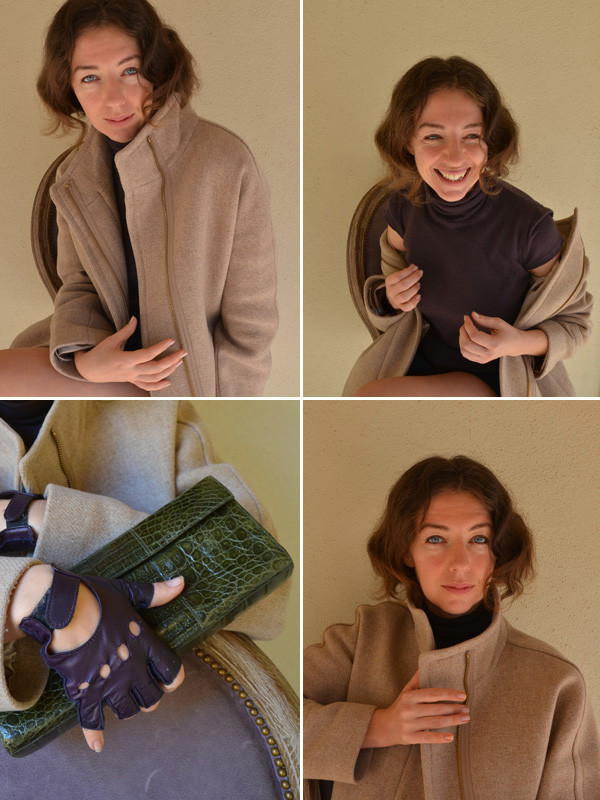 Popular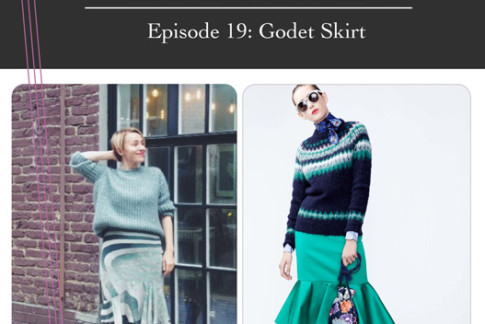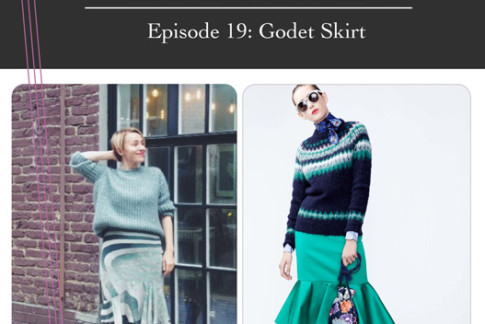 Shop what's in here?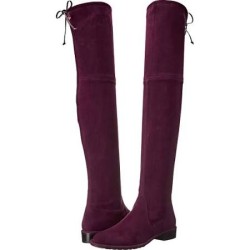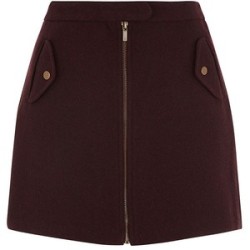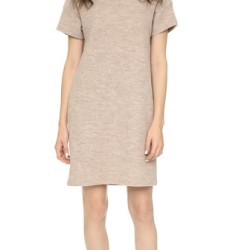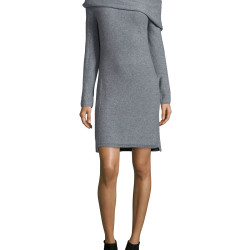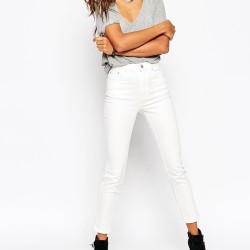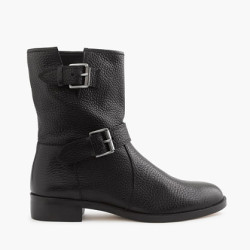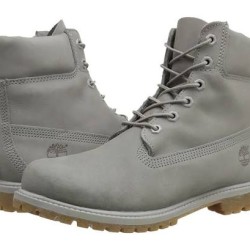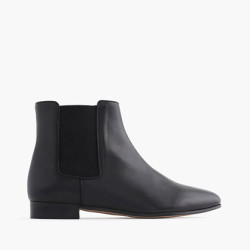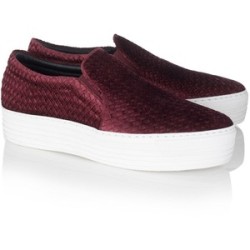 Related posts