Love & Dove. Not Your Eye Candy!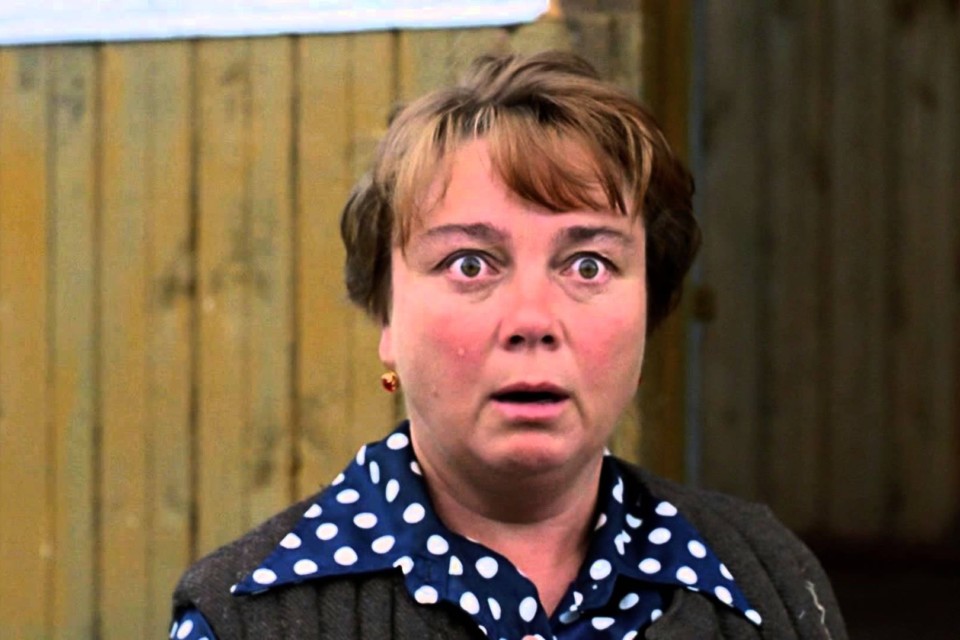 Appearing undone at the age of 50 in a slapstick comedy, Nina Doroshina made millions of Soviet women laugh and cry as they recognized themselves in the heroine, who knew how to work hard, but felt awkward to kiss her husband.
Ever wondered what Debbie Reynolds, the leading actress of the musical "Singing in the Rain" (1952)  could look  like if she had a bit rougher life, was raised in an image-unconscious environment and had no costume designers  to turn  her into  an eye candy for our insatiable, objectifying retina?
The Soviet actress, Nina Doroshina (1934 – 2018) bears a lot of resemblance with the bubbly American sweetheart.   Another American Silver screen star, Claudette Colbert could be even a more precise version  of Doroshina's  cinematographic twin, if  character, facial bone structure and stage appeal, all get factored in.
Looking at  the stills from the Soviet film this may seem like a far cry. But unlike her Hollywood colleagues, who shined during  their younger years, the  Soviet actress became famous at the age of 50. This is when she came undone  for the role of wronged wife, Nadya whose humble family life  is suddenly  disrupted by a sophisticated cougar, in  a slapstick comedy   "Love and Dove" (1984.)
Similar to  Claudette Colbert, Doroshina received a nearly aristocratic upbringing.  She spent most of her career playing on the theater stage, shying away from the camera. This background makes her authenticity  in the role of  Nadya,  a vulgar village woman with the high-pitch,  Brooklyn-girl-like voice ever more impressive.
Doroshina had been playing this role in the Moscow theater  when film director, Vladimir Menshov spotted the actress and became obsessed with  making a screen version of  "Love and Dove" and have her as a leading actress.   Doroshina kept refusing the offer. She was set in her ways of playing Nadya and was not intended to change a bit. If he had his own vision for this character he was better finding another actress. But  the way Doroshina  played Nadya on stage was the sole reason Menshov decided he would bother.   Somehow he sensed that what the actress brought into the role would resonate with millions  across the country. Boy, was that man intuitive.  The film was a blast. At the age of fifty Doroshina woke up famous.
Her character, Nadya is a hard worker. She boot straps to meet the demands of farm life and jumps out of her skin  to run the household right.  Nadya put herself last, she lacks in sensuality and is completely out of touch with her feminine side.   She is nagging non-stop at her husband; her high pitch voice is flying across the farm making everyone shrink and stop doing whatever it was they were doing.   Vasily is conscientious and agreeable, but  he also has an emotional outlet.  He keeps a small farm with pigeons in the back yard and spends whatever  leisure time he has attending to the birds, enjoying the warmth he craves and practicing escapism.  Still, among other village men who primarily indulge in drinking, Vasily seems to be a  role model.  Nadya mocks her husband for his hobby and  is never happy.
The trouble starts when the workers comp department sends Vasily to a company-owned resort where he recovers from the accident. This is where he get sucked into a relationship with the  lonely seductress, Raisa.  No other woman could be more different from his vulgar wife.    She is stylish, well mannered, versed in a variety of subjects, practices healthy life style and completely self sufficient. She holds an executive position and shares household with her terrier. Intimidated and intrigued, Vasily falls under the spell of her sophistication. The lovers  enter into what looks like a perfect Female Led Relationships, but things turn south pretty soon. Raisa treats her partner as another terrier and Vasily realizes he misses his family.   He tries to leave Raisa in what looks like his first attempt to build some barriers. This goes against his agreeable, escapist nature.
The wife and the seductress have a chance to meet each other. The seductress attempts to pose as a progressive woman, while the unsuspicious wife wears her heart on a sleeve. It is  both, comic and tragic,  hilarious and heart breaking scene.   The five minute episode becomes the most played in Russian TV shows and on Youtube, with several  memes springing out  of  their dialogue and peppering  the Russian language for decades to come.
As Vasily sheepishly  attempts a come back, heart-broken Nadya hastens like a wounded animal. She keeps changing her mind about the whole situation.  One morning she decides she is an independent, self-sufficient gal, the next day she tries herself as a  seductress but breaks up in tears.
Vasily is happy beyond himself that she even considers  to take him back.  He realizes he  loves her just the way she is and is ready to travel great lengths to win her trust back.  But many  women watch her with the heavy heart as they recognize themselves in the heroine who goes through the painful process of discovering her feminine side.  She decides to be independent, but this is not what she wants. She is trying to control the situation by being an unapproachable ice-queen. But she  seems so vulnerable lacking even basic understanding of how to dress to her own advantage.   She never spent any time in front of the mirror. She rarely had a chance to  buy something beautiful, let alone wear it. She did not know how to be coquettish, flirty  and sensual.  In the very beginning of the film we become witnesses of an awkward kiss with her husband.  Millions of Soviet people had a bitter laugh as they saw themselves or their parents in the clumsy good-buy kiss that Nadya and Vasily exchanged right before he took off  for his hapless vacation.
In the highly charged scene where she learned that the lady she had just confessed in,  actually was "the other woman",  the director put Nadya against an impeccable, dressed as a Parisian, Raisa.  Nadya is outfitted in a    generously draped  dress with large, exotic flowers. This exotic, Austro-Hungarian flora could  complement  elongated facial features of someone looking like Heddy Lamar. But all it did for Nadya, it vandalized her natural beauty.   Nadya's small, perky features ask for lighter colors and bubbly, geometric prints,  similar to what Debby Reynolds was wearing in "Singing in the Rain."
No solid citizen had ever been dressed to their nines on the Soviet screen. Soviets were not aware of the term "objectification", they pointed finger at the person seeking style instead. Good looks and sense of style were a sure indicator you were  corrupt.  Indistinct looking clothes meant you were smart,  had integrity and concerned yourself with things that matter.  Nearly three generations of Soviet women  tried to live up to this idea until….  until they did not.
"Love and Dove"  wheeled into our lives on the same agenda.  The hard working gal takes over corrupt glam puss.  Thanks  to the witty comedy many women  internalized the liberating  idea that for meaningful relationships looks were secondary.  Yet there were others who relied on the sense of style as a source of energy  similar to  good posture.  Those women wondered how come they never  even had a chance to learn about good dressing and then choose when and where  they wanted to use it?   How come they have been on this  'getting-things-done' treadmill for so long?
By appearing throughout the  film in  the ill-fitting clothes Nina Doroshina  created an  act of selfless-ness. She made a lot of Soviet women face what was buried deep in their souls  for so many years: they wanted to look beautiful.  They wanted to use clothes to their advantage.
Doroshina died in April of  2018. She spent most of her professional life acting on stage and teaching drama at the esteemed theater school in Moscow.  Her fellow-actors refer to her in the same way Gregory Pek described Claudette Colbert once: "sophistication with the spark."  But most people of the former USSR know her as a common Nadya with the headache inducing high-pitch voice and untidy clothes, the quintessential  "babushka. They love her just the way she is.  But here is a little tribute to her and her contribution to  our lives in clothes that could make her natural beauty shine.
Popular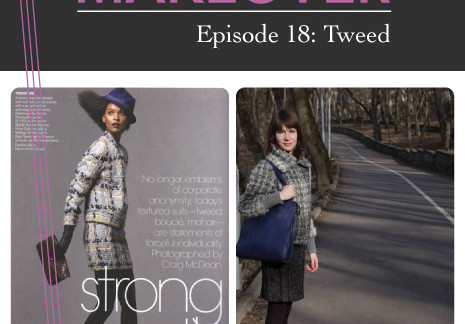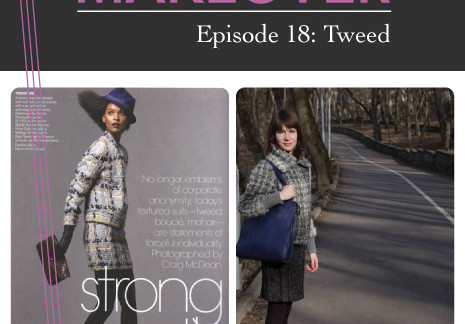 Related posts